Last week, our MBA cohort went on its second Discovery Expedition trip to Singapore. From digital transformation to getting to know the culture, we spent five days experiencing the Lion City of the East.
Last week, our MBA cohort took to the skies once more to go on our second Discovery Expedition trip. The theme for the trip was the Power of Technology, and the destinations were San Francisco and Singapore.
Thirty-five of us ventured to go on an 18-hour journey to get to Singapore. On the personal side, it was my first time in South-East Asia, so I was eager to get to know the city and its culture.
The digital journey
As I said, the theme of our trip was the Power of Technology. To that end, we had several opportunities to experience that theme first-hand. Throughout the week, we visited several companies and governmental organizations that work in the digital space. We had people from global powerhouses Google and Facebook, from local brands FoodPanda and Gojek, and governmental organizations EDB and GovTech, among others.
From flight simulators to brain scans, we saw which technologies will be shaping digital capabilities in the future. However, we also noted that technology is nothing without people with the right mindset. Since Singapore is a country with no natural resources, they say that their people are their most important resource. To exploit all the benefits from technology, education and training are essential.
Another high point in the trip was our class with Professor Misiek Piskorski on digital transformation and how to align the strategy of an organization to its digital strategy. We learnt about what companies are doing to fully exploit the power of their data collection capabilities and some frameworks to make sense of it all in this sometimes-chaotic environment.
These experiences helped us to shape the idea of what digital transformation means and what it can do for business. We saw how technology has given these organizations an edge in what they do, and what trends we need to watch out for in the coming years.
The culture journey
However, not everything in the trip was business related. Our cohort also had the opportunity to get to know the city and its culture. One big aspect of this was the food.
Now, I must admit, as a Uruguayan, I have a very soft palate when it comes to spicy food. And there may or may not have been bets in the class on how much spice I would be able to handle.
Nevertheless, even if it was a bit spicy, I must admit the food was amazing. We had the good fortune of having our classmates Mac, Rafi and Ayesha to show us around the city and introduce new dishes to us every day. And that includes trying out the famous (or infamous, depending on your tastes) Durian and know why it's so loved and hated at the same time.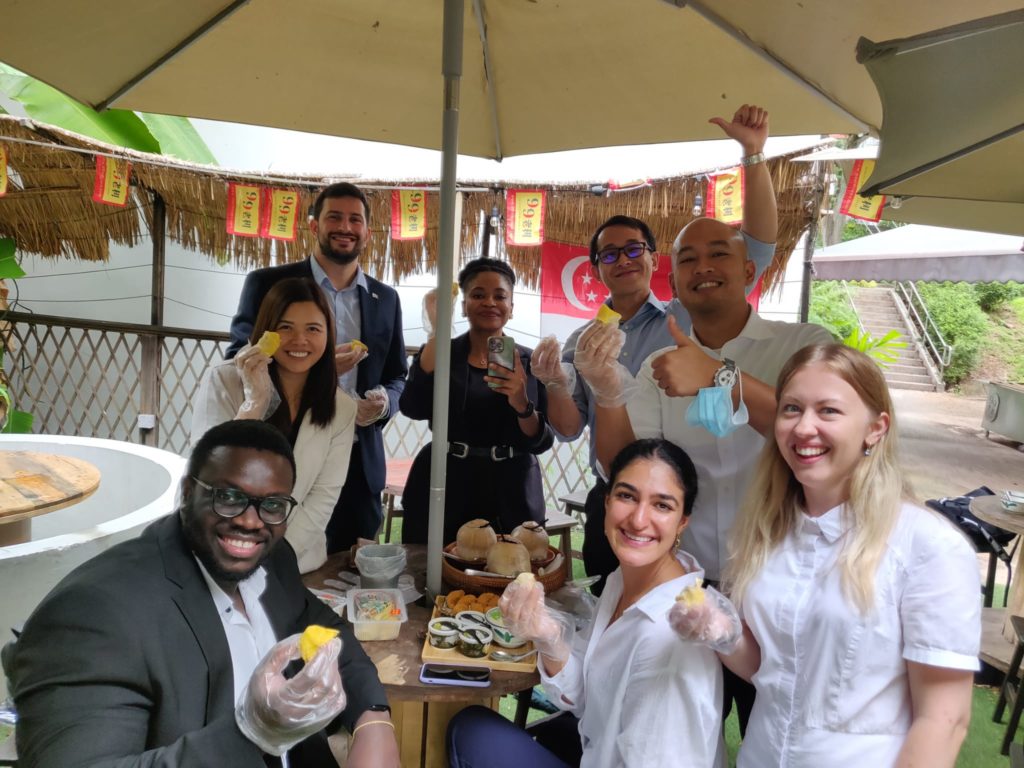 We also got the opportunity to cruise around the city and tour some of its landmarks. I was really amazed by the balance between the green parks and the tall buildings. Singapore is an amazing city and it truly felt we needed at least a couple more weeks to do it justice. However, I'm grateful for the experience of being on the other side of the world from where I grew up. And honestly, I am looking forward to when I will be able to visit again.